Radiation Monitor PM5000B-05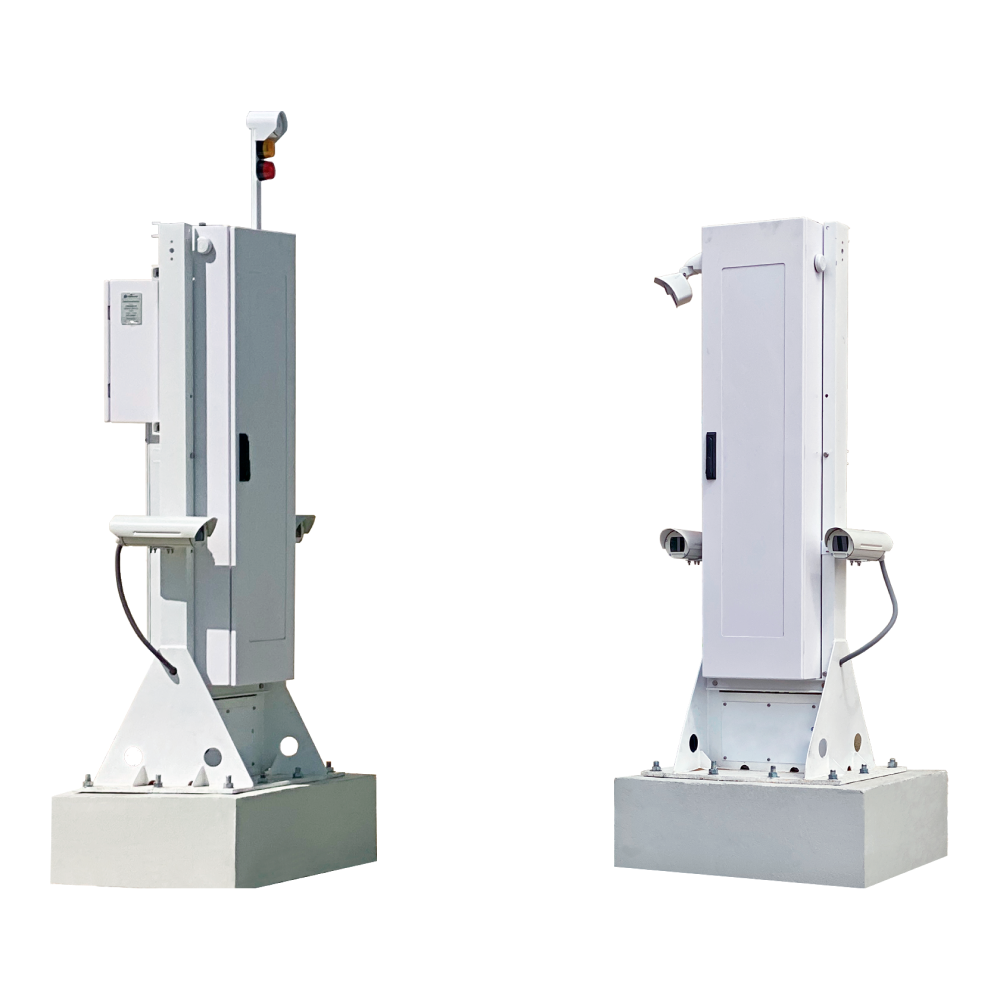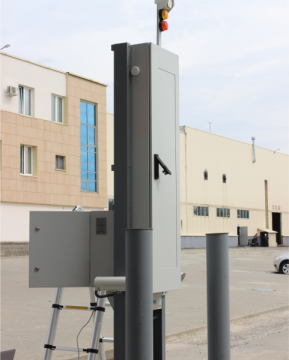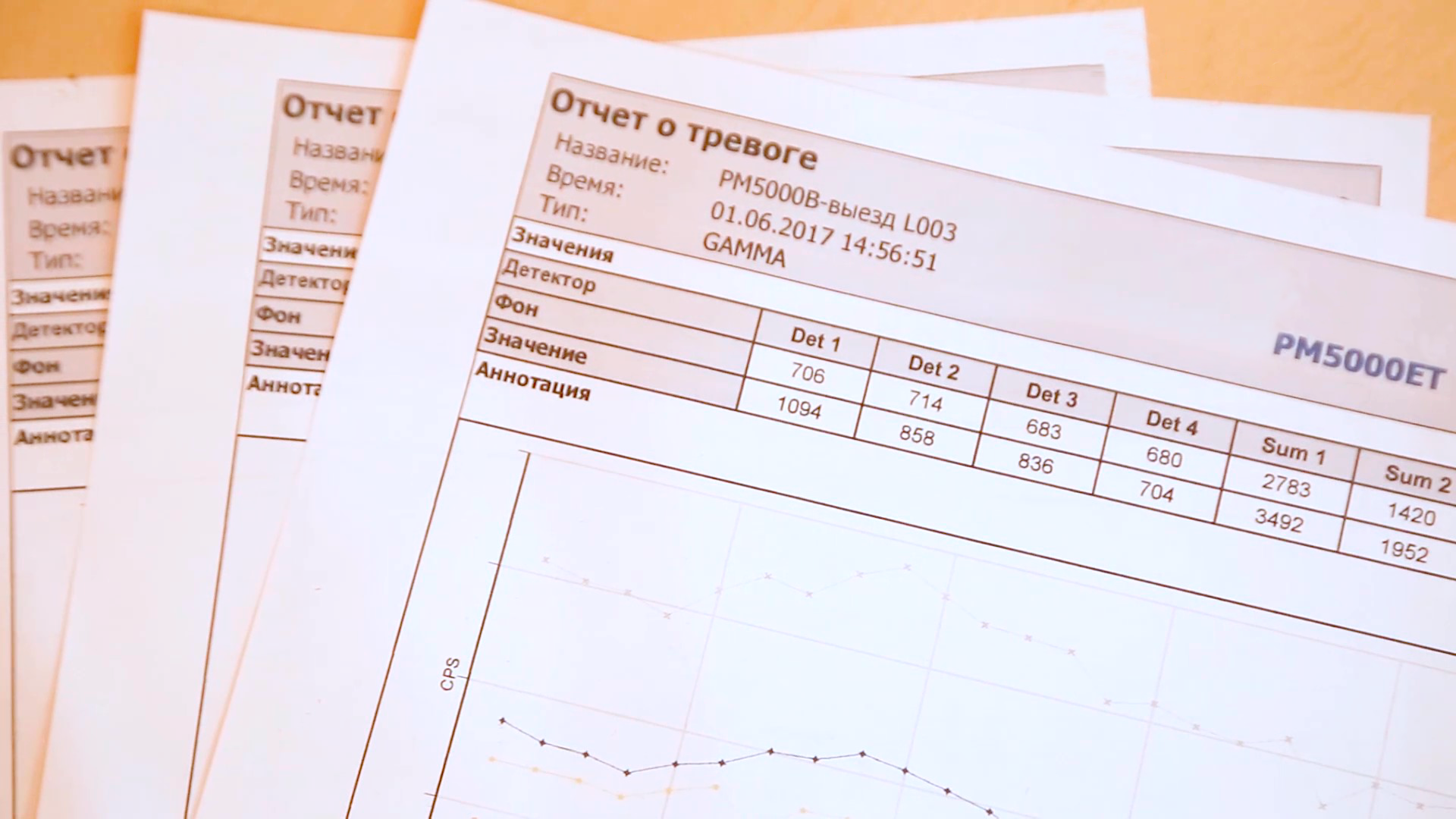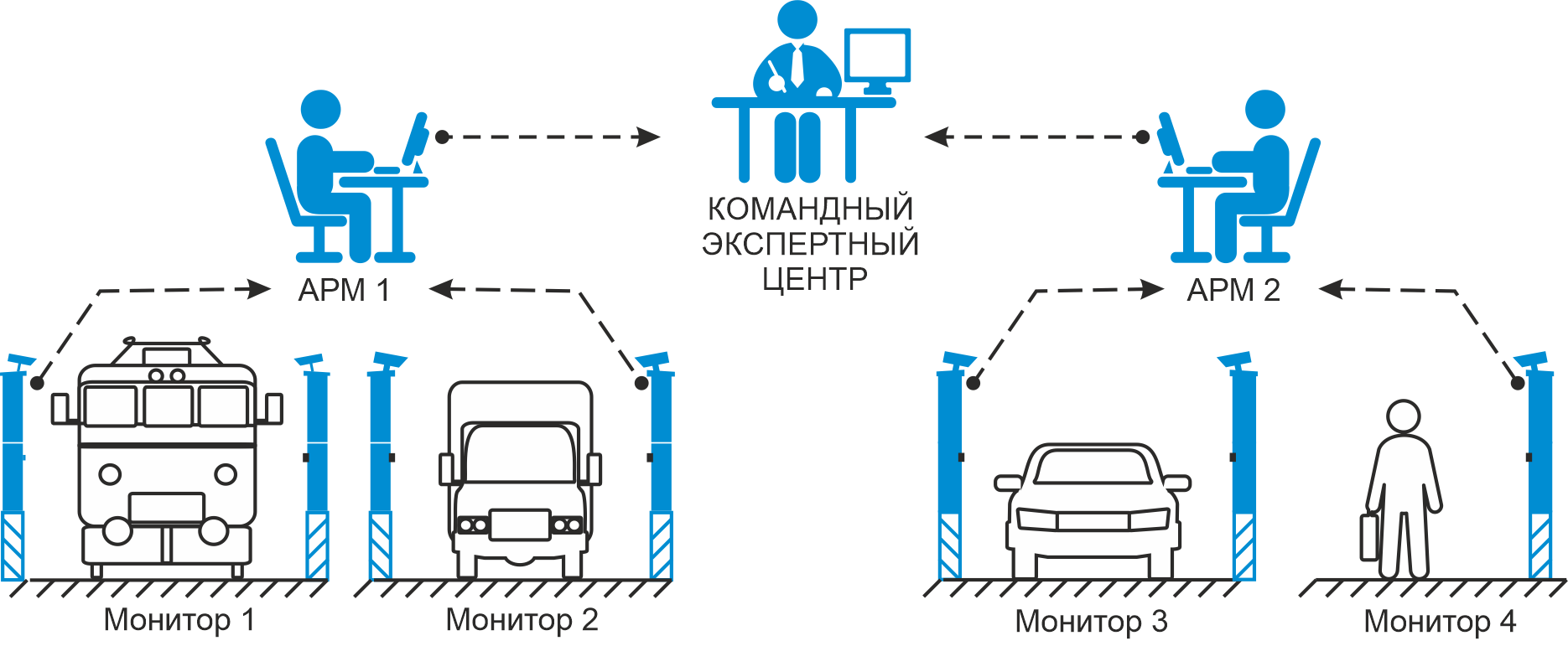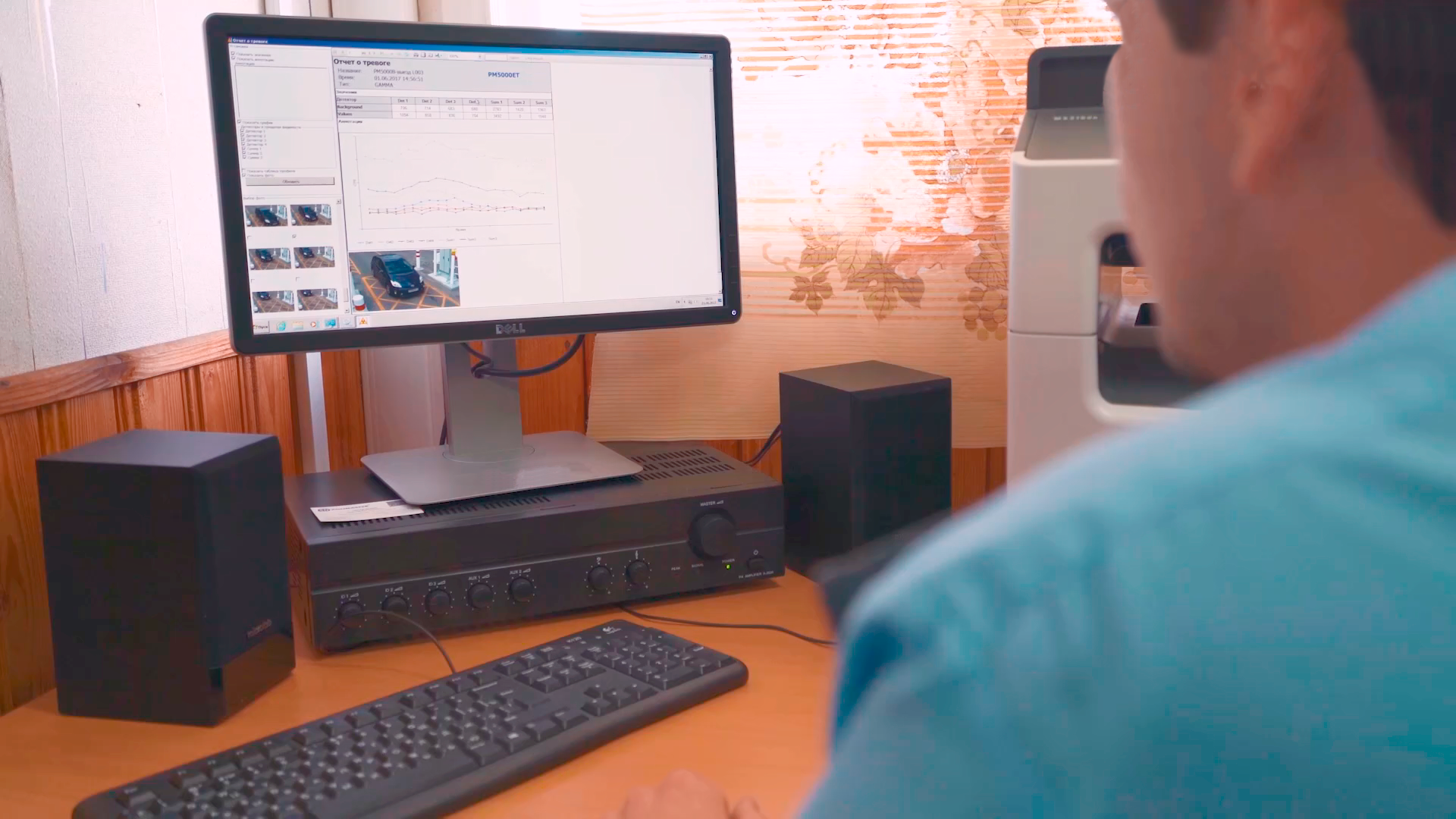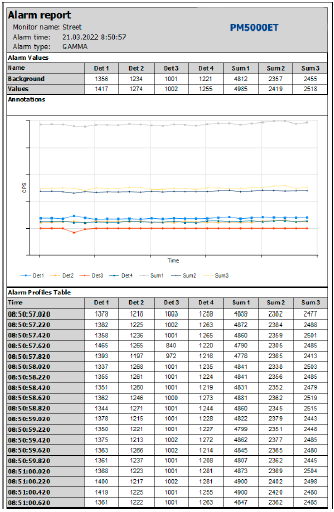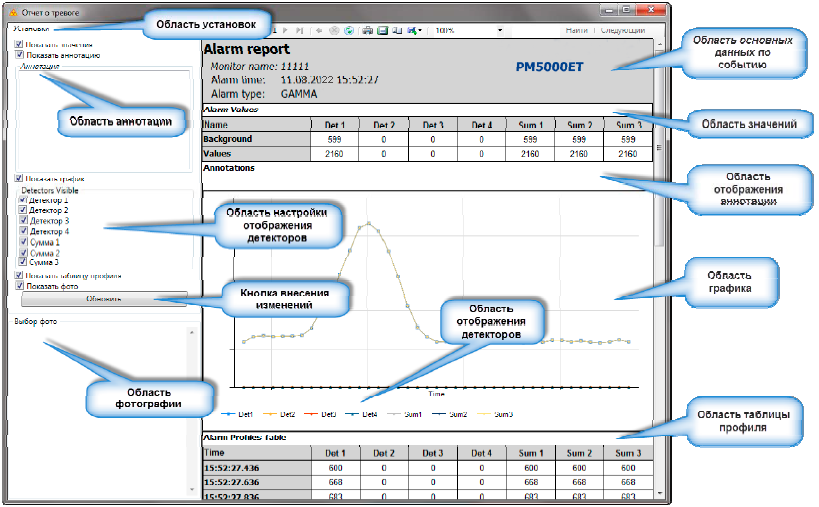 Radiation Portal Monitors (RPMs) of PM5000B Series are highly sensitive fixed installation systems designed to automatically detect illicit trafficking of radioactive materials.
Application: airports, seaports, railway stations, customs and border checkpoints, nuclear plants and other facilities of the nuclear industry, nuclear waste disposal and storage sites, scrap metal industry, governmental offices, banks and post offices.
Details
Characteristics
Energy range
—
20 KeV – 3 MeV
Type of registered radiation
—
gamma
Ingress protection
—
IP65
Weight
—
one gamma detector – 120 kg; control unit - 20 kg
Operating temperature
—
-30 up to +50°C
Atmospheric pressure
—
from 84 to 106.7 kPa
All characteristics
Radiation Monitor PM5000B-05
Operation Principle
RPMs have modular design and may have one-pillar or two-pillar configurations, adaptable height and width according to customer requirements. Monitors can be equipped with video monitoring system.
Key Features
High sensitivity

Advanced data processing algorithms

Modular design

Easy-in-use

Audible and light alarms

Indoor and outdoor installations

Reliable, automatic, 24/7 operation

PC connection through the Ethernet port

Video monitoring system (option)

Integration into a nuclear protection network  controlled by a central PC (option) with further integration into higher level networks controlled by an Expert Center (option)
Modifications
РМ5000В-01 - two-pillar gamma monitor with 4 gamma radiation detector modules;

РМ5000В-05 - two-pillar gamma monitor with 2 gamma radiation detector modules;
РМ5000В-09 - two-pillar gamma-neutron monitor with 2 gamma-neutron radiation detector modules on 10B / ZnS (Ag) basis;
РМ5000В-10 - two-pillar gamma-neutron monitor with 4 gamma and 4 neutron radiation detector modules on 10B / ZnS (Ag) basis;
РМ5000В-13 - two-pillar neutron monitor with 2 neutron detector modules on 10B / ZnS (Ag) basis;
РМ5000В-14 - two-pillar neutron monitor with 4 neutron detector modules on 10B / ZnS (Ag) basis;
РМ5000В-16 - two-pillar gamma monitor which consists of 8 gamma radiation detector modules;
Monitored objects:
Characteristics
20 KeV – 3 MeV

Type of registered radiation

gamma

IP65

one gamma detector – 120 kg; control unit - 20 kg

-30 up to +50°C

from 84 to 106.7 kPa

up to 98 % at 40°C and lower, no moisture

no less then 8 years

no more then 60 min

Mean time between failures

no less then 10000 hours

Minimum detectable amounts of radioactive materials, control zone 3 x 2 m

| | |
| --- | --- |
| | 5 km/h |
| 241Am, MBq, (µCi) | 0.62 (17) |
| 137Cs, MBq, (µCi) | 0.065 (1.8) |
| 60Co, MBq, (µCi) | 0.040 (1.1) |
| 57Co, MBq (µCi) | 0.085 (2.3) |
| 133Ba, MBq (µCi) | 0.040 (1.1) |
| 238U, g | 460 |
| 235U, g | 32 |
| 239Pu,g | 0.9 |

Minimum detectable amounts of radioactive materials, control zone 6 x 2 m

| | |
| --- | --- |
| 241Am, MBq, (µCi); speed 8 km/h. | 2.15 (58) |
| 137Cs, MBq, (µCi); speed 8 km/h. | 0.23 (6.2) |
| 60Co, MBq, (µCi); speed 8 km/h. | 0.145 (3.9) |
| 57Co, MBq (µCi); speed 8 km/h. | 0.29 (7.8) |
| 133Ba, MBq (µCi); speed 8 km/h. | 0.145 (3.9) |
| 238U, g; speed 8 km/h. | 1800 |
| 235U, g; speed 8 km/h. | 110 |
| 239Pu,g; speed 8 km/h. | 3.2 |

Number of detection units

2 detectors

| | |
| --- | --- |
| industrial AC network (115-230V range) | 47/63 Hz frequency |
| built-in accumulator battery | 12 V DC (back-up). Accumulator battery enables continuous working of the monitor during 8 hours (no less than 8 hours). |